PACKING FOR ANTARCTICA OR THE ARCTIC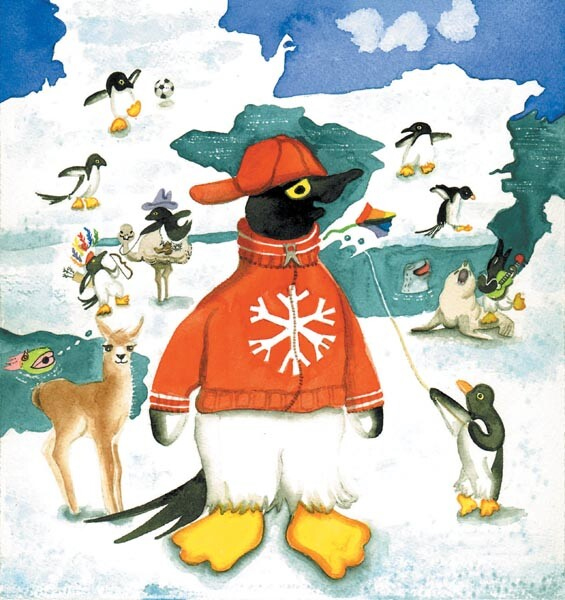 Illustrations by Denise Shaw
Packing for your Antarctica or Arctic cruise can be tricky, especially if your trip begins or ends in a more temperate climate. Charter flights, often included, can have luggage weight limitations, so choosing items wisely that go further will help maximize valuable suitcase real estate. Below are some suggestions, but of course you should adjust for the region and duration of your polar adventure.
CLOTHING – LAYERS ARE ESSENTIAL
The base layer is the most important. Don't limit yourself to just one. For best insulation, go with thin wool, which also allows for freer movement. Cover that base with leggings or long pants from the core down. Waterproof pants are a must if anticipating "wet landings" (often Zodiacs or inflatable polar boats are not able to beach land and guests exit the craft in shallow waters near the beach). Long-sleeved tops under your fleece layer and then your expedition jacket (usually provided by the ship line), and of course, warm but thin woolen socks to keep the toes toasty.
ACCESSORIZE
Sunglasses are required. Never underestimate the power of the sun in polar regions. Polarized, of course!
Sunscreen – if you've ever been sunburned while skiing, you know the effect sun and ice/snow have in intensifying rays. Don't risk a burn, bring high SPF protective sunscreen for all exposed skin. (Chapped lips are also a bummer – throw in some lip balm.)
A great camera – if you are a serious photographer, this is no time to rely on your cell phone. While you can get good photos with any camera, for a once in a lifetime trip like this, consider investing in a good camera and perhaps multiple lenses.
Of course, keep that equipment and all your accessories safe in a waterproof bag.
WALKING SHOES
Waterproof is best, and be sure the ones you choose have good traction in slick conditions – both for land and on the deck of a ship. Heavier waterproof boots are often provided by your tour operator, particularly in Antarctica. Be sure to check with them before assuming you should buy or bring your own.
GLOVES
Consider thinner under layer gloves as well as waterproof heavier pairs, to allow your fingers more mobility when necessary. Layering gloves is as effective as base layering clothing or layering socks in keeping the digits warm.
HAT
Wind burn is no joke and the winds can whip up quite suddenly in the polar regions. Bring a good hat that can be pulled down to cover your ears.
MUST HYDRATE!
Plastic water bottles are a thing of the past, particularly in sensitive remote polar regions. Pack your favorite water bottle or check with your tour operator to see if they will supply one.
PLUNGE WEAR
Most Antarctica and Arctic trips offer a chance for the infamous "polar plunge" – so bring swimwear, no matter how odd it feels!
Back to Blog...