Explore Norway With Cruise Norway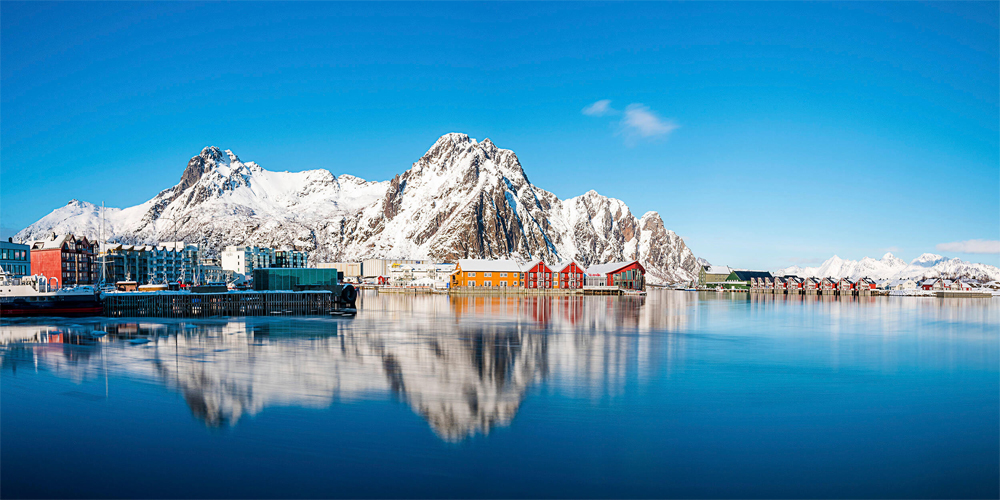 Norway is well known for its beautiful and unspoiled nature. Look closer and you will also find cozy villages clinging to the steep hillsides and lively modern cities. Join us for spectacular sailings that go deep into the magnificent Norwegian fjords, the most spectacular fjords in the world. Experience the Midnight Sun in the summer or the Northern Lights in the winter.
Fjord Norway has its name from the many beautiful fjords. But what exactly is a fjord? And how were they created?

Read more...
AURORA BOREALIS

Also known as the Northern Lights, this natural phenomenon is visible in the Arctic parts of Norway from October through March.
The "lights" vary in color and intensity and are quite unpredictable and unique. The Northern Lights in Norway are solar winds that meet the atmosphere in a zone around the magnetic North Pole, forming arches, waves and curls of light moving across the sky that can be visible with the naked eye.

Read more...
ARCTIC SEASONAL WILDLIFE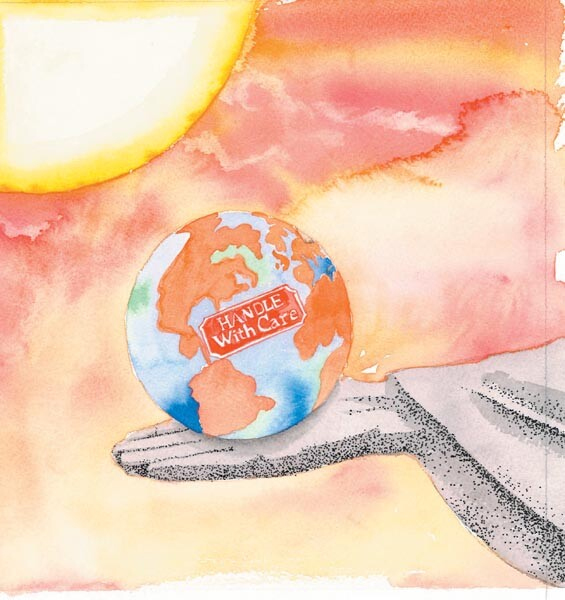 Illustrations by Denise Shaw
SPRING (APRIL/MAY) p>
April p>
Great for dog sledding and snowmobiling. You can find some ski options in Spitsbergen and East Greenland. Great time for Arctic fox sightings! p>
May p>
Temperatures range around from -7°C to -2°C. Driest month in the Arctic – purple saxifrage can be seen starting to bloom. There are migratory birds returning to nest, including Puffins, Brünichs and Common Guillemots. And even chances to see humpback whales, polar bears and icebergs.

Read more...
DARING THE DRAKE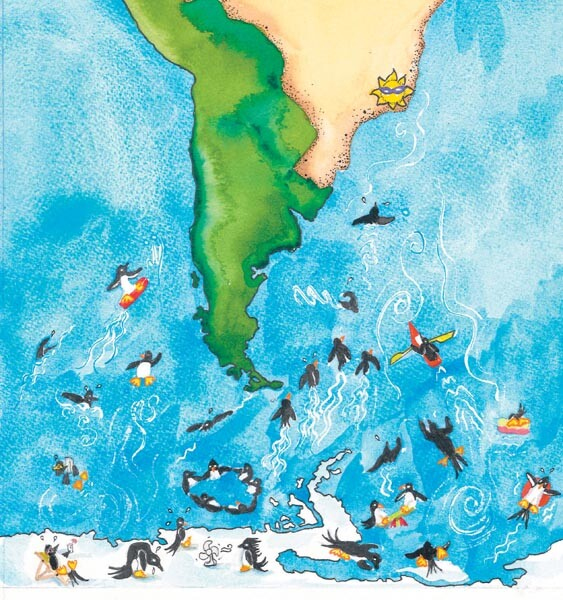 Illustrations by Denise Shaw
Sir Francis Drake in 1578, may or may not have dared to cross the passage now named for him at the bottom of the world, some say opting instead to take the Strait of Magellan in his southern voyages. If you are travelling to Antarctica however, you will most likely make the crossing via Ushuaia, Argentina. Infamous for its volatility and mythology, the Drake Passage has become one of the most talked about sailing routes in the world.

Read more...
EXPEDITION CRUISING – IS IT FOR ME?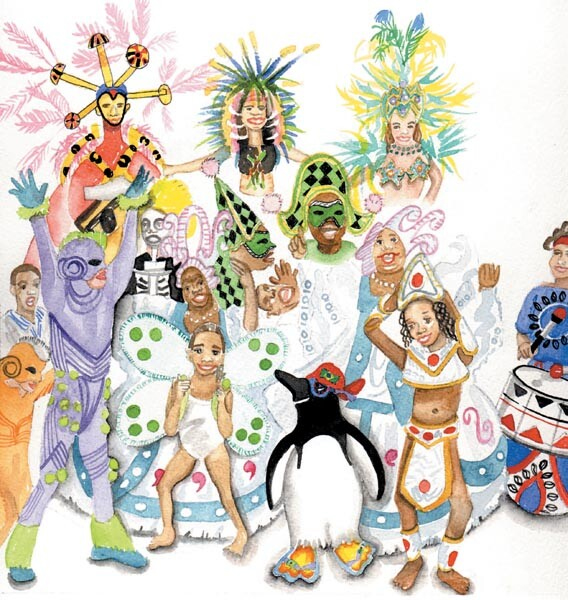 Illustrations by Denise Shaw
When cruising as a true vacation holiday began, a variety of "entertainment" options on board your vessel were generally available. Theater/nightclub type shows, casinos, trivia night/bingo, art auctions, and more were typical, and more elaborate ballroom dancing, Captain's cocktail hours, holiday or festival-themed performances also evolved over the years.

Read more...
ANTARCTIC PENGUINS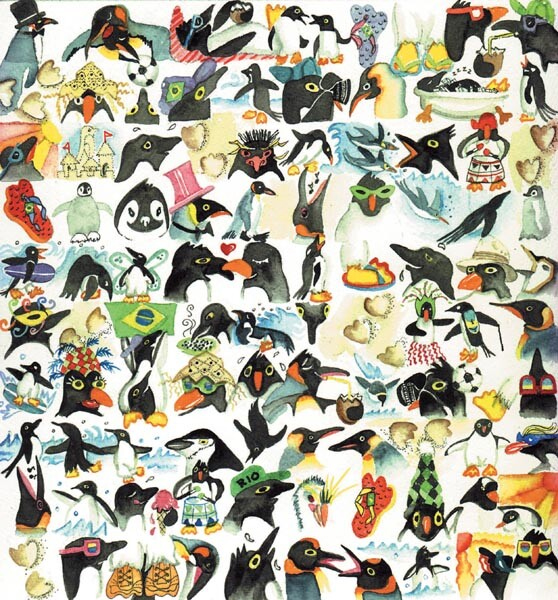 Illustrations by Denise Shaw
Of the 17 worldwide species of penguins, Antarctica can claim only four. p>
By far the most common is the chinstrap penguin, which owes its name to the narrow black band under its head. The second-most populated is the Adélie penguin, numbering approximately 2.3 million pairs in Antarctica. Other penguin species on the continent include the emperor penguin and the Gentoo penguin. There are three other species that live and nest on the Antarctic and sub-Antarctic islands: the macaroni penguin, the rockhopper penguin, and the king.

Read more...
ANTARCTICA SEASONAL WILDLIFE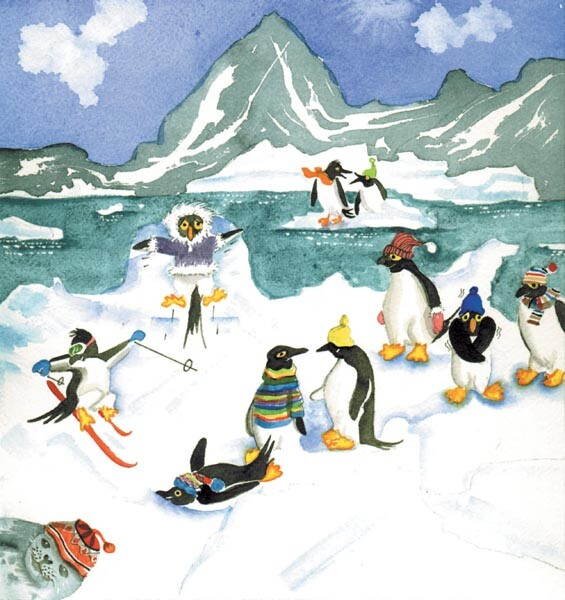 Illustrations by Denise Shaw
If traveling to Antarctica by ship, you will likely be sailing between October and March, which is considered spring through summer months around the Continent. Although most travelers assume the weather will be quite cold, temperatures range from approximately 15 degrees to around 50 degrees (Fahrenheit) during this time (-9 to +10 Celsius).

Read more...
PACKING FOR ANTARCTICA OR THE ARCTIC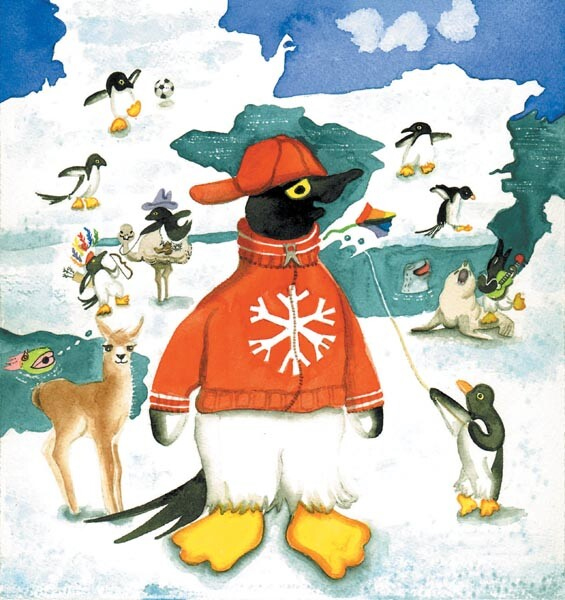 Illustrations by Denise Shaw
Packing for your Antarctica or Arctic cruise can be tricky, especially if your trip begins or ends in a more temperate climate. Charter flights, often included, can have luggage weight limitations, so choosing items wisely that go further will help maximize valuable suitcase real estate. Below are some suggestions, but of course you should adjust for the region and duration of your polar adventure.

Read more...