North America toll-free:

+1 888 203 2093

WhatsApp

& Mobile: +1 910 233 0774

Europe & ROW:

WhatsApp

& Mobile: +372 52 99 832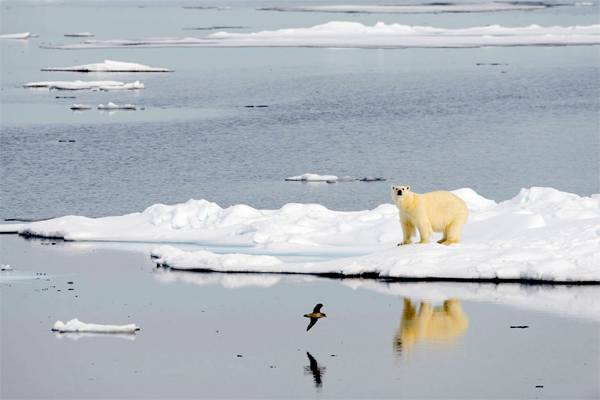 In Search Of Polar Bears And Pack Ice
Travel to Arctic Norway, the land of the polar bear, on this 8-day expedition cruise to Spitsbergen, the largest island in the Svalbard Archipelago.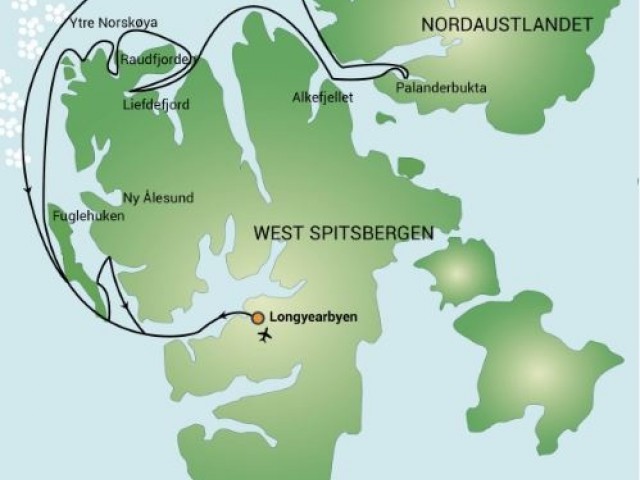 HIGHLIGHTS
Observe polar bears, reindeer, walruses and arctic fox

Journey to the world's most northerly settlement and be just 540 miles from the geographic North Pole

See extraordinary bird cliffs with puffins, nesting guillemots, kittiwakes and little auks, plus ground nesting barnacle and pink-footed geese, as well as arctic terns

Visit historic whaling sites and mining villages, even remains from the era of polar bear hunting
DATES / RATES
Rates are listed per person in USD
Start Date
End Date
Quad Porthole
Triple Porthole
Twin Porthole
Twin Window
Twin Deluxe
Superior

May 30, 2022

Jun 06, 2022

3,850

5,300

5,300

5,750

6,100

6,900

Jun 06, 2022

Jun 13, 2022

3,850

5,300

5,300

5,750

6,100

6,900
Rates are listed per person in USD
Start Date
End Date

(Starting from)


Quad Porthole

(Mid-range)


Twin Window

(High-end)


Superior

May 30, 2022

Jun 06, 2022

3,850

5,750

6,900

Jun 06, 2022

Jun 13, 2022

3,850

5,750

6,900
ITINERARY
Day 1:

Arrive in Longyearbyen, the administrative capital of the Spitsbergen archipelago of which West Spitsbergen is the largest island. Before embarking there is an opportunity to stroll around this former mining town, whose parish church and Polar Museum are well worth visiting. In the surrounding area of Longyearbyen, more than 100 species of plants have been recorded. In the early evening, the ship will sail out of Isfjorden, wherein the mouth of the fjord we may see our first Minke Whale.
Day 2:

We sail to Raudfjord on the north coast of West Spitsbergen, a beautiful fjord dominated by spectacular glaciers and favored by Ringed and Bearded Seal. The cliffs and shoreline of the fjord also support thriving seabird colonies and surprisingly rich vegetation, which flourishes in sheltered spots. Polar bears are often seen here.
Day 3:

Depending on the weather we may now sail to the mouth of Liefdefjorden and go ashore for a walk on the tundra island of Andøya. Many Common Eider and Pink-footed Goose nest here, and the rarer King Eider may also be seen. We hope to sail into Liefdefjorden, cruising near the 5km long face of the impressive Monaco Glacier. The waters of the glacier front are a favorite feeding spot for thousands of Kittiwake. As well, Polar Bears have been seen on the glacier, providing wonderful opportunities for photography.
Day 4:

Today we will sail into Hinlopen Strait, home to Bearded Seal, Ringed Seal, Polar Bear, and Ivory Gull. At the entrance, there is the possibility to see Blue Whale. We'll navigate the ice floes of Lomfjordshalvøya in our zodiacs and explore the bird cliffs of Alkefjellet with thousands of Brünnich's Guillemot. On the east side of Hinlopenstrait, we'll attempt a landing at Palanderbukta on Nordaustlandet, home to reindeer, Pink-footed Goose, breeding Ivory Gull, and Walrus.
Day 5:

We will try to reach our northernmost point at Phippsøya, in the Seven Islands north of Nordaustlandet. Here we will be at 81 degrees north, just 540 miles from the geographic North Pole. Polar Bears inhabit this region, along with Ivory Gull. The ship may sit for several hours in the pack ice, before turning west again.
Day 6:

Retracing our route westwards, our route takes us through and along the pack ice, keeping watch for Polar Bear and the elusive Greenland Whale (Bowhead). About 100 nautical miles west of Spitsbergen we sail along the edge of the continental shelf, where Fin Whale forage in summer in the upwellings along the Spitsbergen banks. West of the mouth of the Kongsfjord we have also good chances to see Humpback Whale.
Day 7:

We land at the northern tip of Prins Karls Forland near Fuglehuken, where Barentsz probably set foot on Spitsbergen for the first time. Seabirds nest on the cliffs, and along the coast, we see Harbor Seal, the only population found in Spitsbergen. Here we also will observe the remains of the Polar Bear hunting era, with demolished set guns and bear traps. At the opposite site of Forlandsundet at Sarstangen is a haul-out place for Walrus. Alternatively, we sail into St. Johns Fjord or south to the mouth of Isfjorden and land at Alkhornet. Seabirds nest on its cliffs and Arctic Fox search the cliff base for fallen eggs and chicks, while Spitsbergen Reindeer graze the relatively luxuriant vegetation. At nighttime, we arrive in Longyearbyen.
Day 8:

We disembark in Longyearbyen, the administrative center of Spitsbergen, for the flights south to Oslo and onward home.
Ortelius

(Expedition, 108-guests)
Ortelius offers a comfortable hotel standard, with a u-shaped, a bar and a lecture room. Our voyages are primarily developed to offer our passengers a quality exploratory wildlife program, trying to spend as much time ashore as possible. As the number of passengers is limited to approximately 116 on the Ortelius, flexibility assures maximum wildlife opportunities. Ortelius carries 10 zodiacs
WHAT'S INCLUDED
Voyage aboard the indicated vessel as indicated in the itinerary

All meals throughout the voyage aboard the ship including snacks, coffee and tea

Program of lectures by noted naturalists and leadership by experienced expedition staff

All shore excursions and activities throughout the voyage by Zodiac

Free use of rubber boots

On Spitsbergen voyages: Transfers and baggage handling between the airport, hotels and ship only for those passengers on the group flights to and from Longyearbyen

All miscellaneous service taxes and port charges throughout the program

AECO fees and governmental taxes

Comprehensive pre-departure material

Contact Cruise Norway for LOWER rates than the listed cruise line rates!
Thousands of customers served since 1999. We find you the

best value

and provide

exclusive deals

at

discounted rates

.
Submit the form or call us toll free in USA & Canada

1 888 203 2093




North America:

WhatsApp

& Mobile: +1 910 233 0774




Europe & ROW:

WhatsApp

& Mobile: +372 52 99 832
Required fields
*
DISCLAIMER:
Rates are per person and subject to change.